Initial Project Plan
(Last edit: July 2008)
Virtual Entity is a technical implementation of the concepts of ontology and identity within the digital domain. It will be a fast, non-controllable system based on simplicity, efficiency and spontaneous participation.
Virtual Entity aims to develop a software which provides the possibility to twin any file with a 'Soul'. The soul of a file is a set of metadata plus an editable and unlimited space for information inter-change.
The souls repository will be accessible via a browser or command line. It will be centralized and decentralized, using both a chain of servers and the peer propagation. Every instance of a file will contain an address pointing to the Soul. Any addition to the Soul will be readable from every existing instance of the file entity.
(KERNEL + LOGS = SOUL)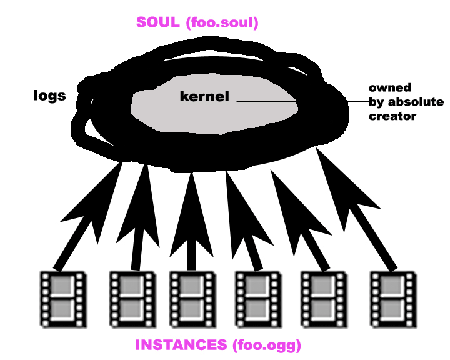 kernel = basic metadata, written by the file creator, machine understandable, permanent, global, possibly language independent
logs = aura, editable by anybody
The basic metadata are editable only by the original creator (when there is an absolute creator). The aura is similar to a wiki, open for comments, logs and documentation; this space can be used by any user of the file. Virtual Entity is a non-compulsory possibility: no user is obliged to read or edit the Soul. The main technical innovation of the Virtual Entity is the method to couple file instance and Soul. The main advantage is the separation between file and metadata, which implies universal accessibility and the possibility for progressive editing of the Soul.
The file integrity can be authenticated. The use of this system easily permits mapping of genetic relations and inheritance between files (digital DNA). A spread use of this system will create a self generating media data history and archive.
Infact, every single Soul can point to all the souls of the sub-files that are contained in the file represented. The Aura will contain a simple authentication key to prevent spam, the Anti Poltergeist System (APS).
---
Virtual Entity as a Licence
Virtual Entity is a practical solution to the problem of metadata compatibility, and a possibility for licensing immaterial works. If we imagine a license as a confronting platform open for discussion around culture and communication, as a place for instructions, best usage, digital file destiny and fate, then Virtual Entity is a new, simple, technical answer to the problem of attribution of digital creations. This technical system represents each work as a peculiar, non unique entity. Any cultural object is, infact, a specific manifestation. Uniformity is not necessary on the moment of fruition.
---
Metadata Fields 01
This is the alpha version of the Metadata fields (Soul Essence), January 2009.
---
AUDIO
---
Title
Author
Year (of creation)
Date (of upload)
Place (of creation)
Filename
Subject
Language (main)
Institution
Company
Publisher
Purchaser
Collection
Duration
Keywords
Type
Genre
Format (original)
Natural Born (digital or analogue)
Analogue/Material Carrier (if born analogue)
Digitisation process (if born analogue)
Creation Software (if born digital)
Short Content
Sound (stereo/mono)
Related URL
Fruition Suggestions
Observations
Remark
Future Plans
Parent File
Child File
Cousin File
Related File
Virtual Entity Status
License (if not VE)
---
VIDEO
---

Title
Author
Year (of creation)
Date (of upload)
Place (of creation)
Filename
Subject
Language (main)
Institution
Company
Publisher
Purchaser
Collection
Duration
Keywords
Type
Genre
Format (original carrier. ex, dv, beta)
Natural Born (digital or analogue)
Analogue/Material Carrier (if born analogue)
Digitisation process (if born analogue)
Creation Software (if born digital)
System (original=PAL, NTSC)
Short Content
Sound
Color/bw
Announcing Titles
Credits
Related URL
Fruition Suggestions
Observations
Remark
Future Plans
Parent File
Child File
Cousin File
Related File
Virtual Entity Status
License (if not VE)
---
TEXT
---

Title
Author
Year (of creation)
Date (of upload)
Place (of creation)
Filename
Subject
Language (main)
Institution
Company
Publisher
Purchaser
Collection
Pages
First Edition Year
ISBN
Keywords
Type
Genre
Format (original)
Natural Born (digital or analogue)
Analogue/Material Carrier (if born analogue)
Digitisation Process (if born analogue)
Creation Software (if born digital)
Related URL
Fruition Suggestions
Observations
Remark
Future Plans
Parent File
Child File
Cousin File
Related File
Virtual Entity Status
License (if not VE)
---
IMAGE
---

Title
Author
Year (of creation)
Date (of upload)
Place (of creation)
Filename
Subject
Language (main)
Institution
Company
Publisher
Purchaser
Collection
Size
Keywords
Type
Genre
Format
Natural Born (digital or analog)
Digitization Process (if born analog)
Analog Carrier (if born analog)
Creation Software (if born digital)
Related URL
Fruition Suggestions
Observations
Remark
Future Plans
Parent File
Child File
Cousin File
Related File
Virtual Entity Status
License (if not VE)
---